Luxury Yacht to Angthong National Marine Park 
Luxury is what you deserve on holiday, explore Angthong Marine Park in style
Every tour offered to Angthong Marine Park is based on the same Itinerary, this tours are all about the yacht, and it beauty
Relaxing and taking in the beauty of the Marine Park and its 42 Islands is a must. Snorkeling the clear waters, and chilling on one of the unspoiled beaches of Angthong.
A perfect way to complete your day on board, with a spectacular sunset, enjoying a cocktail.
About Angthong National Marine Park
Mo Koh Ang Thong National Park consists of 42 islands. This protected environment creates a safe habitat for many mammals, reptiles, and birds. It covers a total area of 102 sq.km . The Park, which is located on the mainland and the islands of Koh Samui and Koh Phangan, is most famous for Talay Nai. Once a giant karst cavern until the ceiling collapsed to form a fantastic inland saltwater lake.
The movie 'the Beach' starring Leonardo Di Caprio was inspired by and partially filmed at this location. The water is clear, calm and inviting, creating the perfect conditions to explore the park's hidden treasures.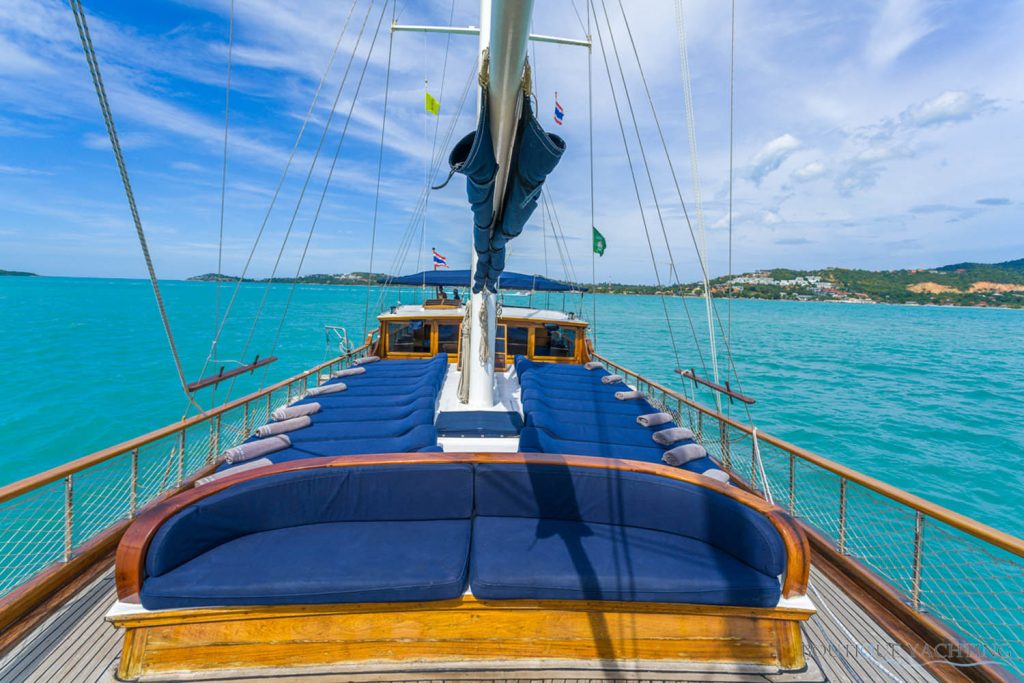 Child – 50% discounted 5yrs – 11 yrs
Child – 0-4 yrs Free
Tour operates Tuesday and Fridays
Tour Itinerary
• 8:30 Departure from Petcherat Pier & Breakfast
• 11:00 Arrival visit Emerald Lake at Koh Mae Koh
• 12:30 Lunch on board
• 13:30 Nice and tropical beach at Koh Wua Talab
• 15:00 Back to Koh Samui
• 17:00 Sailing and sunset
• 18:30 Arrival at Petcherat Pier
Tour Includes
• Hotel/ resort transfers
• Full breakfast
• Lunch Buffet
• finger food/ snacks
• Coffee, tea, soft drinks and water
• Sunbath on a deserted beach
• Visit the Emerald & Viewpoint
• Towels
• Marine Park entrance fee
• All Taxes and insurance
• English/German speaking Guide
Please take time to read the Terms and Conditions
Cancellation 48 hrs before – Deposit non-refundable after 48 hrs. Cancellation after 24 hrs full payment of the balance is required.
Why not explore Koh Samui Island on a Private Island Tour?
Private Tour Explore Koh Samui From 2000 baht 5 Hours
Tailor made Itinerary Private Driver Tour