Private Tour with Samui Explorer takes you around the Island, visiting the most popular tourist sites on Koh Samui.
Explore Samui tour, a snap-shot of Koh Samui with a private driver
Explore Koh Samui with Samui Explorer with a private driver at the start of your holiday to see how beautiful Samui Tropical Island has to offer.This allows time to return to a particular site you may have enjoyed, and explore recommendations we offer you. A Private Tour can be taken in a family car 1-3 persons, 4×4 1-4 persons, or an Air Conditioned Mini Van 1 – 10 persons
Prices start from 5 hrs at 2,000 baht ( Nb: These are not a per person price) Email for an accurate price for your group size
Nb: All tours include Resort transfer in Chawang, Bophut, Bangrak, Cheong Mon, Plai Leam and Lamia. All other areas will include an additional 500 baht.
Excludes – Lunch, entrance to parks where specified, or elephant trekking.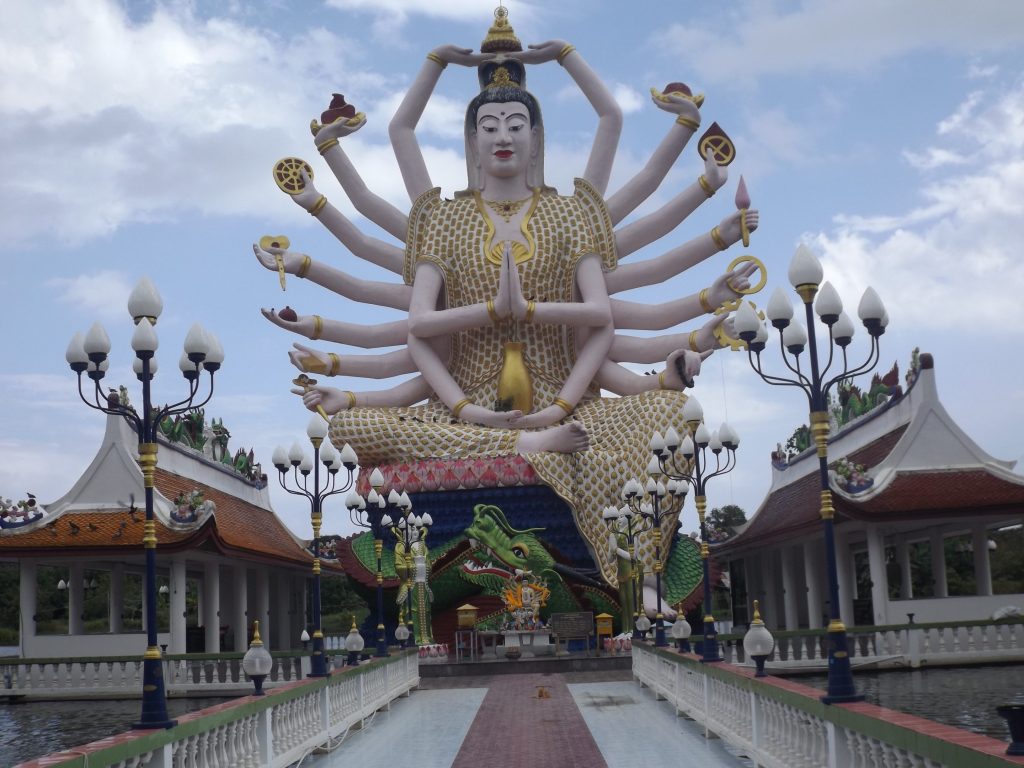 Itinerary
09.00 am Pick up from your resort however the pickup time is flexible
The Big Buddha – Big Buddha is the main tourist attraction on Koh Samui. Located on a small island named Koh Faen which takes its name from Island of deer where many years ago they lived. The Big Buddha is 12 meters high, it is placed at the top of 73 stars. From the top, you can see Koh Phangan Island and Koh Som
The temple is situated on the small Island of Koh Samui, Koh Faen. Fean in Thai translates to Deer, the Island was named after the wild deer who inhabited the Island.
Wat Plai Leam – Wat Plai Leam is over 100 yrs old. You can see the Chinese Lady Monk " Jow Mae Kuan Im" The Large Buddha statue which is surrounded by a lake where you can enjoy to feed fish
ViewPoint Chaweng – Take a view over the largest beach on Koh Samui, a great place to take some fabulous viewpoint photos
Namuang Waterfall – Namaung Waterfall is famous in Koh Samui. The waterfall originates from the Mountian from the heart of the Island. It falls from the cliff 30-40 meters. You can enjoy a trek, or swim at the foot of the waterfall.
Mummified Monk – The Mummified Monk Long Pordaeng and is on display. He sits in the same meditation pose as he did when he died 30 yrs ago
Why not have a Monks Blessing?
Grandmother – Grandfather Rock (Hin Ta Hin Yai)- Away from Lamia center on the beach are two famous rock formations named Grandmother – Grandfather Rock. The rock formations are shaped like a male and female genitalia. The love story is told that a young couple in love ended their life here during a bad storm this turning the rocks into these shapes. These are very popular among tourists and the only two shaped rocks in the World.
Beach Lunch stop – Lunch stop at a lovely beach location, or seafood Resturant
Drop back off at your resort
 

Please read our Terms and Conditions
 Cancellation must be made 24hrs before to receive a full refund.
Why not explore Angthong National Marine Park with Samui Explorer
Please take time to read our reviews below from previous customers