Angthong Marine Park what a wonderful place
What a spectacular place, peaceful, tranquil surroundings, still unspoiled by tourism.
Apart from the wonderful Marine Park, the next wonder of the day was the staff and the organization of 100 Degrees East
From start to finish the whole day was organized very well, the safety was paramount, service levels so high they were flawless, and at the end even when the weather changed the Captain ensured we all arrived back safely and as smoothly as possible.
They also care about the Marine life and the effects, before leaving the office we all had an explanation about why certain actions are detrimental to the environment and Marine life.
Our fins and mask were sized out and ensured all fitted comfortably before leaving for our tour
Only 12 persons maximum on the speedboat leaving much room to be seated where you choose. I chose to sit up front and be a little explorer seeking that adrenaline rush. Life jackets were handed to each person and explained at all time that they must be worn whilst traveling on the boat.
Our 1st stop was snorkeling at a quiet area just on the outskirts of the marine park. As we arrived we passed numerous boats of all sizes moored with customers, our location was away from the crowds.
The sea life was in abundance however, I must admit that the waters were not as clear however visibility was still clear enough to see the sea life below.
At all times the guides stayed in the water, staying close by inexperienced snorkellers. The guides had with them floating rings for those feeling tired or frightened in the water.
Our next set of activities was at the headquarters of the Marine Park – Kayaking to an unspoiled beach. Only a short journey approx 15 minutes each way.
Our time was relaxing, swimming and simply taking in the breathtaking surroundings. The staff again were very attentive for those feeling uneasy in the kayaks. They spend time taking family photos, for each group which never seemed at all an issue for them simply brilliant.
After kayaking, we enjoyed a delicious Thai buffet which included, curry, vegetable dish, fried chicken, Thai salads, and spring rolls. Plenty of food to go around everyone and more
For those more adventurous were offered additional trekking which was more like rock climbing, which was great fun. The views from the top were just amazing that left you drifting somewhere else for moments.
The last group of activities was the trek to the Emerald lake viewpoint, which wasn't so far in the boat.
The trek was an easier one, and the views were somewhat different than the 1st, but just as amazing.
Our trip was cut short due to weather change. We watched the black cloud move over us, so for safety, the Captain decided we should leave early to make our journey home safely.
This was a decision much appreciated by all on board as the weather changed so much so the waters were very choppy, and some onboard suffered seasickness.
The staff showed genius concern for their customers on board and even took the time to massage one of the customers who seemed to be distressed.
As an agent on Koh Samui, I recommend this tour highly, simply because of the staff on board and the organization of the operator. You can't offer this level of service which 25 + passengers on board a speedboat, or spend the time and receive such a personal touch from the staff.
Samui recommends and will only book operators offering tours on the Island that offer such fabulous service for their customers.
For more information on how to book Angthong Marine Park VIP Tour and prices for this fabulous tour please contact us directly
https://www.samuiislandexplorer.com/
Angthong National Marine Park VIP Speedboat Tour
Fun In the sun with Samui Explorer
Fun times, fond memories and great times is exactly what you will find touring with Samui Explorer
Private Tailor-made tours are built based on exactly what you as, a customers chooses to see, or do
Not what others have chosen for you.
Not everybody comes to Thailand to see Temples or beaches.
Others may enjoy viewpoints, local village life, or maybe a local school
This is all possible with Samui Explorer
Listen to a testimonial from one of our recent customers – We enjoyed a fun day out exploring Funky bars, and beaches.
I made an itinerary covering mountain views, culture, Temples, beaches, Funky Bars and much more. Had lunch in stunning locations
We have so much to see and do on Koh Samui which most be tourist miss because they are not guided correctly or given the correct information
Get as much out of Samui on your holiday as possible!
Contact Michelle at https://www.samuiislandexplorer.com/en/contact/
Or visit Michelle and Jack at our office in the Big Buddha Temple, The Big Buddha Coffee Shop
Samui Explorer is a small family run Tour Agency
Our office is situated inside our coffee shop The Big Buddha Coffee, located in the Big Buddha Temple.
Samui Explorer has been Trading since 2012 we have grown rapidly becoming one of Koh Samui's reputable Tour Agencies and Private Tour Company.
Samui Explorer specializes in Private Tailormade Island Tours, Private Drivers, and Private Airport/Pier Transfers to and from Resorts and Private Villa's around the Island
Samui Island Explorer recommends and makes bookings for only the highest rated operators on Koh Samui that offer excursions and activities.
Koh Samui's Tour Operator's offer the same  Itineraries for all excursions, making it difficult to choose. Samui Explorer chooses the excursions based on the boat, yachts, and speedboats, emphasizing on comfort, value for money and the level of service our customers will receive rather than the Itinerary.
Our Mission – To ensure all our customers go back home with fantastic memories of their holiday on Koh Samui
Contacting Samui Explorer is easy, via email samuiexplorer@hotmail.com , by Facebook  Samui Explorer, or  contact us via our website www.samuiislandexplorer.com or pop in and see us at our office inside the Big Buddha Temple, in our coffee shop – The Big Buddha Coffee Shop ( see below)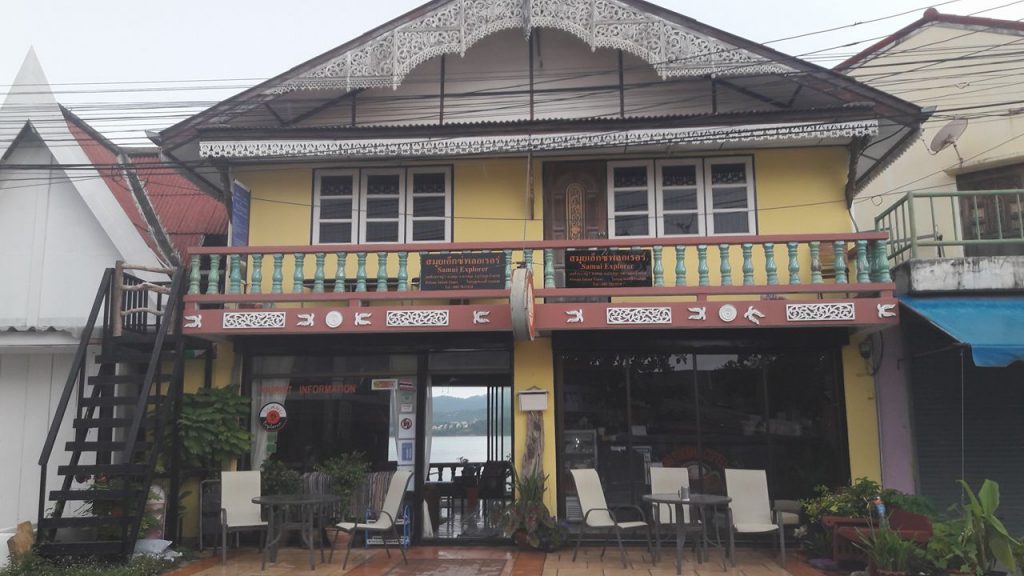 Please take time to read Trip Advisor reviews from previous customers
https://www.tripadvisor.co.uk/Attraction_Review-g293918-d6563650-Reviews-Samui_Explorer-Ko_Samui_Surat_Thani_Province.html
Below are a choice of a few recommended tours, to take part in whilst on the Island
Hiking Tours around Koh Samui From 2500 baht
Private Tailor-made Island Tour From 2250 baht
Speedboat VIP Tour Angthong National Marine Park
Koh Tao Island Snorkeling VIP Tour 2700b